Joshua Tree National Park Pictures
Photo gallery of Joshua Tree National Park pictures photographed by professional photographer Rolf Hicker. (There are 15 photos in this photo gallery.)
A desert park situated in southern California, Joshua Tree National Park is more than just desert, it is a park covering an area of 794,000 acres which is home to a large variety of plants and animals.
Shaped by the harsh desert elements, rock formations and terrain are subjected to strong winds, torrential rain, blazing sun, and cold nights.
Joshua Tree National Park has a rich history. There was a time when this desert park was green and mesquite beans, acorns and pinyon nuts grew here. Actually many plants that look as though they've succumbed to the unrelenting heat and dry conditions of the desert are only waiting, lying dormant until the next torrential rain brings moisture and an opportunity to bloom again.
Though the desert landscape of Joshua Tree National Park seems harsh and uninviting, it is actually a delicate and fragile land.
Enjoy our photo gallery of Joshua Tree National Park pictures which is currently being updated with new pictures regularly.
Interesting Photo galleries related to "Joshua Tree National Park Pictures"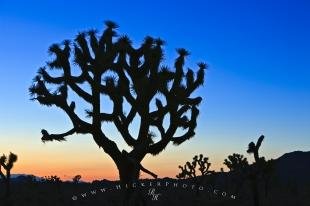 The sky with its pastel shades of salmon and electric blue provides a vivid background for the perfect silhouette of...
A rock in the shape of a skull partially obscured by surrounding bushes, Skull Rock is a popular tourist spot...